This will probably be a long drawn out shaggy dog (because cats aren't shaggy) story but bear with me.
I was reorganizing my studio, trying to improve my storage situation. These days, a large painting for me is around 40 x 60 inches, the biggest size I can easily transport. When I was much younger, I worked ridiculously large – like 4 1/2 feet by 6 feet, all the way up to 5 x 8 feet . Large paintings are great to work on, but they are a bitch to store, and and even more of a bitch to transport. So back to now: in addition to several primed and unused monster canvases, I had several unstretched stretchers I'd been holding onto since my youth, hopeful someday my situation would once again justify doing paintings of a "heroic" scale.
Yeah right.
My epiphany hit me: I am NEVER going to work that large again.
So I decided the smart thing to do would be to take them apart and recycle/resize them.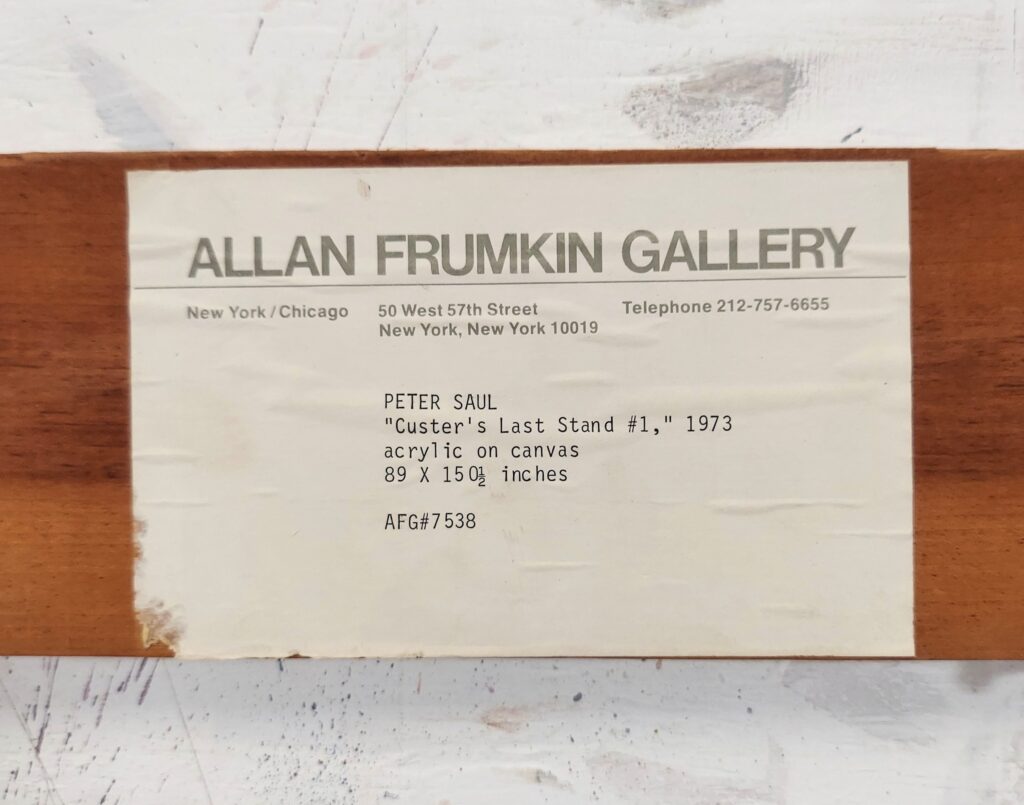 The largest of the bunch was one I'd gotten from a friend who'd worked as an installer in the early 90s at the Fort Worth Modern. This behemoth measured 89 x 150 inches (that's about 7 1/2 by 12 1/2 feet). On the back was the label shown above – the stretcher had formerly borne "Custer's Last Stand #1," painted in 1973 by American artist Peter Saul, a figure associated with the Pop movement, though his work was much more than that. He'd painted it sometime between my freshman and sophomore year at TCU.
It's a truly amazing piece.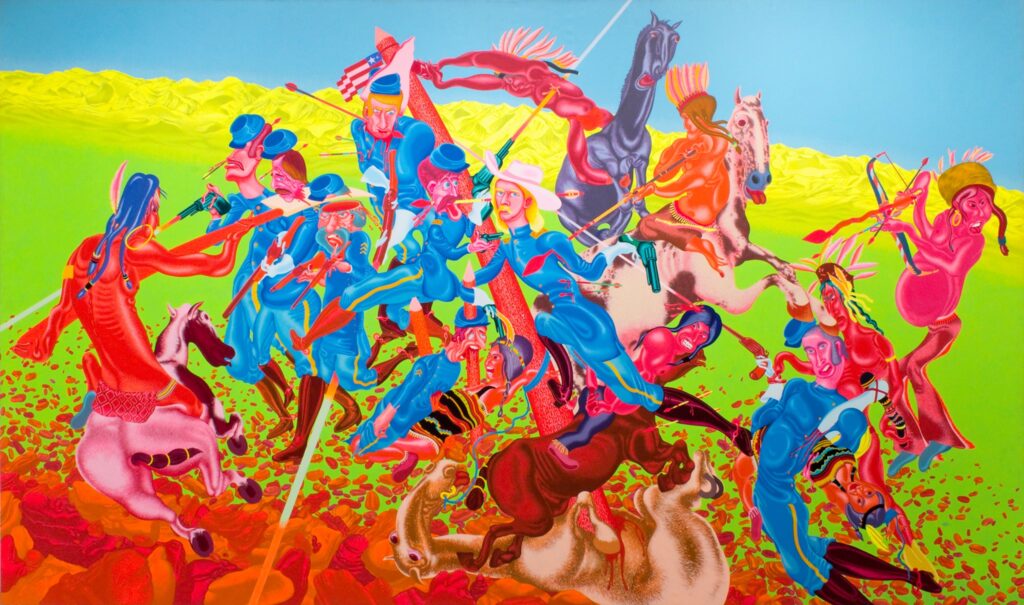 Peter Saul taught at UT Austin in the 1980s and 90s, which would fit with him being included in a show at the Ft Worth Modern during that time. How it came to pass that the painting left DFW while its stretcher stayed behind is anybody's guess, although shipping an unstretched painting, especially one of this scale, is bound to be a lot cheaper than shipping it stretched and ready to go (remember what I said about transporting big pieces).
I can only hope Mr. Saul will not hold it against me that I chopped up this former bearer of his work, and that maybe some of his greatness will rub off on me….at least a little bit. To see more of his amazing work, go to: https://www.instagram.com/petersaul_archive/
Ars longa vita brevis.